Your web browser is unsupported and as a result certain pages may not render properly. Please consider updating it to a newer version.
The easiest and fastest way to build and manage your school schedules
Maximize the impact of every minute of the school day for every student.
Schedule design, creation, and modeling software for elementary school schedulers. Quickly prepare and share homeroom, specials, and dependent teacher schedules.
Learn More
Efficient and coordinated schedule creation and management for interventionists, special educators, related service providers and support staff.
Learn More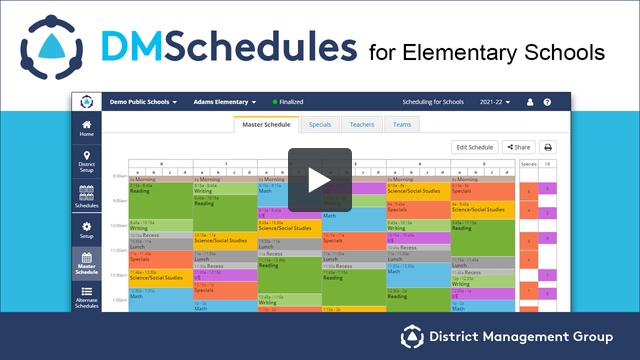 Elementary school scheduling simplified
Quickly and easily create strategic elementary school schedules aligned with your learning goals. Automatically create dependent student and staff schedules.
Reduce the time it traditionally takes to prepare schedules from weeks to hours and experiment with different schedule models to find the best schedule for your school.
Designed around best practices in school scheduling, the software helps to create schedules aligned with your strategic priorities. Experts from DMGroup are also here to provide advice and support.
Increase transparency and communication with shared online access to your homeroom, specials, and related staff schedules.
By far the easiest program I have ever used!
— Principal
Bibb County, GA
After doing this by hand for 23 years, and now using this software, I mean, it is so cool!
— Principal
Deerfield, IL
We have realized outstanding scores and performance from our students due to the efficient use of support staff's time and the amount of support provided to our students.
— Principal
New Fairfield, CT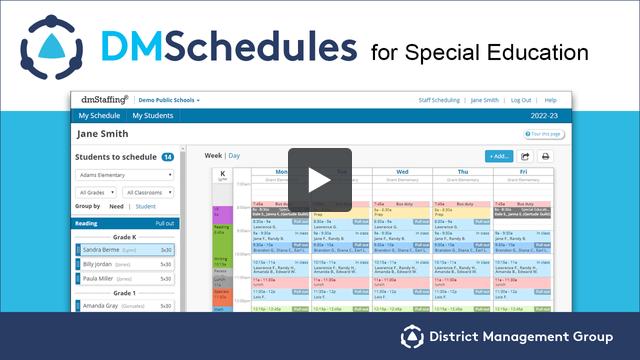 Streamline special education and related services scheduling
Coordinate and schedule student services with ease while making sure nothing falls through the cracks.
---
Special education and support services staff can spend more time delivering quality instruction to students and less time managing their schedule.
Access to IEP services, student homeroom schedules, and times where students are scheduled for other services make it easy and fast to schedule students at the most appropriate time.
Get a complete view of a student's schedule including homeroom and all push in and pull out services to share with homeroom teachers or parents.
---
Testimonials
I was skeptical about doing my schedule on a computer, but it's much better and easier than I thought
— Speech and Language Pathologist
Granby, CT
It has made it easier to schedule my students and see their complete daily schedule along with related services. The system has helped me confirm that I have all of their minutes accounted for.
— Special Education Teacher
Indian Prairie, IL
There's now a through line from our priorities to our master schedule and our special education schedules.
— Principal
Farmington, CT